Optimization = Leads.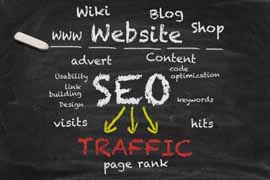 SEO plays a critical role in today's online marketing environment. A well optimized website can drive quality leads right to your business. SEO starts with keyword & market research to see exactly how your consumers are searching to find your products and services.  After implementing a tactical SEO strategy we monitor  your website keyword rankings in Google, Yahoo, and Bing to help you understand where the visitors and phone calls are coming from. We utilize Tools like Google analytics and our state of the art call tracking software to spell out where your website is at in terms of marketing effectiveness, and SEO. Our SEO strategy revolves around getting targeted customers to call your business based on their search queries. We have helped websites rank #1 for targeted keywords in some of the worlds most competitive markets.  Let us help you and your company get the most out of its internet marketing budget by implementing our proven SEO strategies. We work with over 30 companies from across the United States utilizing our SEO process to drive leads to your business and MAKE THE PHONE RING. Keep in mind our SEO packages are month to month so we won't lock you into any long term contracts and you can cancel at any time. We are only successful if we make you successful, which is how we have gotten to where we are at today! Contact us to learn more and to get a free website audit and SEO proposal.
Learn more about our Pest Control Marketing Clients! We currently work with over 20 PCO's!